Sunwalker Atohmo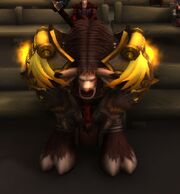 Sunwalker Atohmo is a tauren paladin trainer located in the Valley of Spirits in Orgrimmar.

This section concerns content related to Legion.
He was present at the funeral ceremony of Vol'jin in the Dranosh'ar Blockade and fought against Felblade Assassins.
After the fall of Tirion Fordring, Sunwalker Atohmo joins the Order of the Silver Hand serving its new leader. He is seen lying wounded in the Sanctum of Light.
Quests
He offers paladin-only class quests for tauren.
Quotes
Non-paladin gossip
May the Sun's light protect you, <class>.
Patch changes
See also
External links