Talk:Observer
Metroids from the Metroid series
Huh? Metroids from metroid series look just like floating jellyfish... They don't have eyes... At least for the larva... The later evolutions look more bug-like and dinosaur like... The mutations in the prime series look for the most part like many jelly fish varieties...[1]Baggins 20:19, 3 March 2007 (EST)
Appearance
I'm not sure how everyone thinks they look like Beholders (apart from maybe the name, of course). I acknowledge the fact that the game designers played a lot of D&D in their early days, but these guys look more like Octobrains to me. -Gilmat
Pics for comparison: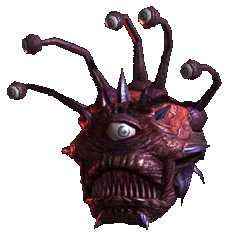 Maybe a beholder "flipped upside down", but I agree, not really a straightforward beholder. They do look more like the "floating eyes" though from fantasy.Baggins 04:12, 30 May 2007 (UTC)
Floating Eye vs. Beholder
I've switched the article to using the term floating eye, due to its existence in a published source. The name beholder however is only mentioned in the file name for the creature, and as far as I know does not appear in the game. Much as we wouldn't name an article on Wretched, "crack elves", a published name or term mentioned in lore specifically, takes precedence.Baggins 06:21, 7 June 2007 (UTC)
Blizzcon says otherwise. Check the talents for Warlocks, Grimoire of Supremacy which allows the summoning of new types of demons lists on the demon list, Beholder. Pretty sure that Beholder = The correct name.--Whitedragon254 (talk) 23:11, 22 October 2011 (UTC)
It's use is unknown
They have a sphincter on their backside that can be seen contracting when the creature is fighing and dilating when the creature dies. Its use is unknown.
GUYS I THINK I MIGHT NOW WHAT IT'S USED FOR. -HURR ~九尾の野狐♥ THE INDIGO IS A LIE 13:37, February 11, 2010 (UTC)
Now known as Observers?
In the most recent update to the MoP Warlock talent calculator, "Summon Beholder" has been changed to "Summon Observer". Suzaku (talk) 17:29, 20 February 2012 (UTC)
Given the above, shouldn't this page redirect to Observer rather than the other way around? -- Dark T Zeratul (talk) 18:58, 25 September 2012 (UTC)
Durumu
Is Durumu realy an observer?--LemonBaby (talk) 16:22, 4 February 2013 (UTC)