Tattered Note (quest)
For the Timeless Isle object, see Tattered Note.
Tattered Note

Start
End
Level
Category
Experience
Reputation
Rewards
Objectives
Slay Shath'kar in the Slithering Gulch.
Description
<The short, hand-written note is scrawled in blood.>
They captured me soon after I was exiled. I was too weak to be a slave and too starved to be food for the beasts.
They were going to kill me, but one called Shath'kar intervened. He said it would be amusing to watch me starve to death among his prisoners.
I have not lived a good life. I deserve nothing. But, to any fellow Zandalari who finds this, I have one request...
Stick a blade in Shath'kar's belly and twist it until the snake is dead!
("Shath'kar: Sethrak trapper who enjoys watching prisoners suffer.")
Rewards
You will receive:
Progress
If you find any other vulpera in trouble, send them my way.
Completion
I've heard the other vulpera whisper Shath'kar's name in fear. Thank you for ridding us of him.
Notes
Shath'kar is located at [54.4, 33.2]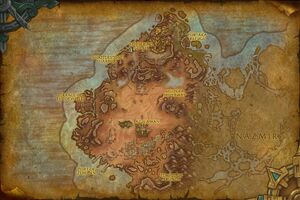 , torturing some Vulpera Slaves and/or Zandalari Exiles. Aggroing him will also aggro his pet Gutgut.
After killing Shath'kar, head to Vorrik's Sanctum[48, 36.4]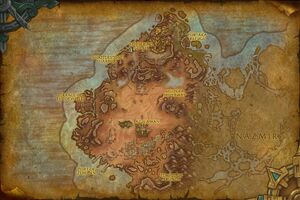 and turn in to Meerah.
Progression
Patch changes
External links