Terror of the Dread Wastes
Objectives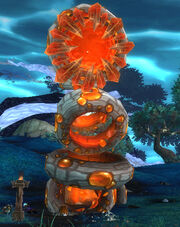 Defeat Norvakess, the Terror of the Dread Wastes.
Description
That thing is huge!
The Shado-Pan holding the blockade were never trained for something like this... let's get down there and take it out ourselves.
Rewards
You will also receive: 11

Progress
I've never seen anything like this...
Completion
You. You're coming with me.
I've never seen someone handle themselves on the battlefield like that. I need a strong <class> like you with me when we face the Sha of Hatred.
Gains
Notes
On accept:
Taoshi says: Ready when you are, <name>.
She joins the party. Run out and take it on!
Norvakess is a level 88 elite kyparite worm with 3,256,000 health and the following abilities:
Resonating Pulse 8 yd range 4 sec cast
Nothing special to worry about—it just has a lot of health. Stay out of the resonating pulses.
On death:
Taoshi says: Let's meet back up with Lord Zhu. There's nothing more we can do here.
This completes the "On Hatred's Path" portion of
[One Steppe Forward, Two Steppes Back].
Progression
Optional breadcrumb:

 [89] Gao-Ran Battlefront
Patch changes
External links