That's Not a Rock!
The subject of this article was removed from World of Warcraft in patch 5.4.0.

This includes items and quests that can no longer be obtained or are now deprecated.
The in-game information in this article is kept purely for historical purposes.
Objectives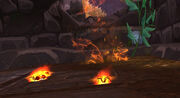 Kill 50 Ashweb Spiderlings. Use Kun's torch to burn them inside their pods.
Provided item:

 [Shado-Pan Torch]
Description
Okay, these spiders are seriously creeping me out. Especially those egg sacs they leave lying around that I keep accidentally stepping on only to be covered in very little but very creepy spiderlings. Ug, makes me shudder just thinking about it.
I say you burn them. Burn them all.
Rewards
Progress
Still busy shuddering here. Come back once you've got with the exterminating.
Completion
Thank you. I'd say I have about a week of Anji making fun of me for the screaming, and then I should be in the clear.
Gains
Notes
There are "rocks" on the ground in the western half of the ruins. Walking on the rocks will spawn a large number of Ashweb Hatchlings from them. The torch works whether or not the hatchlings have escaped the rocks.
Progression
Patch changes
External links