The Ashweb Matriarch
The subject of this article was removed from World of Warcraft in patch 5.4.0.

This includes items and quests that can no longer be obtained or are now deprecated.
The in-game information in this article is kept purely for historical purposes.
Objectives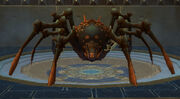 Kill Bloodtip, the Ashweb Matriarch.
Description
My dear Kun spotted more spiders pouring out of the Guo-Lai Halls this morning, and when he went to investigate, he uncovered another spider matriarch inside.
I need you to kill it.
Rewards
You will receive:

 [Treasures of the Vale] and 24

72
2

Progress
Kun's always had a better eye than me. He says that I get a bit of tunnel vision when I see something that needs to be killed. He's probably right.
Completion
You've got a follow-through I can respect, <class>. Thanks.
Gains
Notes
Northwest into the halls. Take a right at the bottom of the ramp to reach the Guo-Lai Ritual Chamber. Bloodtip is a level 91 elite spider with 1.5 million health and the following abilities:
Venemous Spit 15 yd range — Spits poison at an enemy that inflicts 11,100 Nature damage every 3 sec. for 21 sec. Instant. Ticks for 9,000 Nature.
Call Swarmers — Summons some Bloodtip Swarmers to assist the caster. Instant. Announced by a boss emote:

Bloodtip casts

[Call Swarmers]

!
Nothing can be done about the Venemous Spit, but the swarmers have five health, so any AoE ability can easily kill them. The swarmers have the following ability:
Poison-Tipped Fangs 10 yd range — Poisons the target, inflicting 1,000 Nature damage every 1 sec for 5 sec. Stacks up to 20 times. Instant.
There is no NPC assistance, so play smart.
Progression
Patch changes
External links