The Defias Brotherhood (7)
The subject of this article was removed from World of Warcraft in patch 4.0.3a but is present in World of Warcraft: Classic.

The subject of this article does not exist on the retail realms anymore.
The categories should reflect this, and should not include retail realm categories.
The Defias Brotherhood

Start
End
Level
Type
Category
Experience
Reputation
Rewards
Previous

 [18G2] The Defias Brotherhood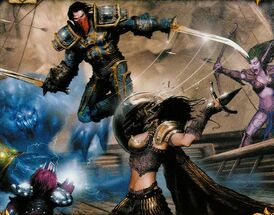 This quest is the final part of the Defias Brotherhood quest chain. This is the first dungeon quest many Alliance characters get.
Objectives
Kill Edwin VanCleef and bring his head to Gryan Stoutmantle.
Description
There is but one task left for you to complete. Edwin VanCleef must be assassinated. While it saddens me to condemn any man to a death sentence, it is for the greater good of the people of Westfall that VanCleef is laid to rest once and for all. Bring me the villain's head once the deed is done.
Progress
How goes the hunt for Edwin VanCleef?
Completion
<Name>, your bravery is remarkable. The People's Militia thanks you for your service to the people of Westfall. With VanCleef dead, this marks the beginning of the end for the Defias Brotherhood. Hopefully some day soon peace will once again grace the plains of this fair land.
I salute you, Sir!
Rewards
You will also receive:
Notes
Upon completion

Gryan Stoutmantle yells: All hail, <name>! Defender of The People!
Progression
External links