The Doomstone
The Doomstone
"This tiny dark chunk of rock is so heavy, it takes all of your might to lift it!"
The Doomstone is a quest item for

 [45] The Doomstone. One of its properties is the ability to absorb a great deal of energy, and the Twilight's Hammer attempted to use it to destroy Thousand Needles with an explosion by overloading the stone and amplifying the power through Animus. When Animus was killed, the Doomstone was delivered to Magatha Grimtotem.[1]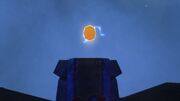 Several years later, the Doomstone was taken by the Burning Legion and Magatha was forced to turn to the Earthen Ring for aid.[2] When the Doomstone was retrieved from Doomsayer Baelresh, the Farseer of the Earthen Ring refused to return it to Magatha, and so Magatha followed them to the Heart of Azeroth at the Maelstrom, unwilling to let the Doomstone out of her sight.[3] The power of the Doomstone was used on the Broken Shore to defeat Barastagax the Flamecleaver,[4] after which the Elemental Lords decided that its power was too great and it should be kept under their watch at the Heart of Azeroth.[5] Magatha did not like this and stayed at the Maelstrom near the stone.[6]
During the Fourth War, Azeroth would suffer a grievous wound at the Maelstrom,[7] causing Azerite elementals to come forth in order to claim the newly formed Azerite. Despite the onslaught, Nobundo was able to secure the Doomstone and reported as such to the Farseer.[8]
Source
This item drops from Animus during

 [45] The Doomstone. This item drops from Doomsayer Baelresh during


 [110] Snakes and Stones.
Notes
In the Maelstrom, it is a level 110, health 5,025, and

neutral

NPC.
Patch changes
See also
References
Other versions
Snakes and Stones

The Doomstone
"The object of Magatha's affection, as well as endless elemental enhancement."
External links
| The Doomstone | Snakes and Stones |
| --- | --- |
| | |
Maelstrom NPC