The Doomstone (quest)
The Doomstone

Start
End
Level
Category
Experience
Rewards
Previous
Next

 [45] Spread the Word
Objectives
Collect the Doomstone.
Provided item:

 [Elemental Nullifier]
Description
At the core of Animus is an artifact known as the Doomstone. One of its properties is an ability to absorb a great deal of energy.
This is how the cultists are trying to set off the explosion... by overloading the stone and amplifying the power through the elemental.
Bring me the Doomstone. For safe keeping, of course.
("Get the Doomstone from Animus!")
Rewards
Progress
Do you have the Doomstone, <class>?
Completion
Surprising... you lived.
I thank you for doing my dirty work, <class>. You kept my hands clean while ridding me of some incompetent Grimtotem leaders.
And not only do I have
 [The Rattle of Bones],

 [The Writ of History], and

 [The Drums of War], but I now have the ultimate artifact: the Doomstone!
Notes
Not that Magatha mentions it, but she hands players the Elemental Nullifier on accept. Animus is floating at [54.9, 63.1]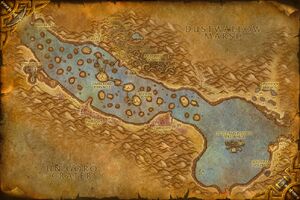 in the middle of the Twilight Withering. The nullifier has an 80 yard range, so pick a good spot and use it on him to make him attackable. He only has 2956 health, but the following abilities:
Shockwave — Sends a wave of force in front of the warrior, causing damage and stunning all enemy targets within 10 yards in a frontal cone for 4 sec. 2 sec cast.
Tornado — Creates a Tornado under an enemy target 2.19 sec cast. Summons a Tornado which triggers...

Tornado — Deals Nature damage to all nearby enemies, knocking them back. Instant. Hitting for ~670-770 every half second!
The name of the game is running away (no matter the direction) the instant he starts casting Tornado. It hits hard!
Aggro:
Animus yells: DESTROY!
At 75%:
Grows larger...
At 50%:
Grows even larger...
At 25%:
Looks like he's about to explode!
Kill him and loot the Doomstone to hand it back to Magatha.
Progression
Patch changes
External links