The Firelord
Objectives
Go through the portal at the Sanctum of the Prophets and aid Cenarius in defeating Ragnaros.
Description
With his gatekeeper gone, you've given the Guardians of Hyjal access to Sulfuron Spire.
Ragnaros will have no choice but to defend the main entryway to the Firelands himself.
Go through the Twilight's Hammer portal at the Sanctum of the Prophets and meet me inside. Malfurion and Hamuul will also aid us while the others continue to fight the enemy outside.
Rewards
Progress
Yes, <name>?
Completion
Hyjal has been saved, <name>.  And it's all thanks to you.
Gains
Notes
The fourth and final flamegate of Hyjal is at [55.6, 66.2]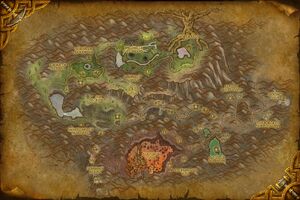 in the Sanctum of the Prophets. Fly through to enter Sulfuron Spire! Ragnaros is at the far end of the room, submerged.
During the fight, Ragnaros, with 22 million health, has the following abilities:
  Flame Wall — Deals 3063 to 3937 Fire damage per second. Cast on the ramp blocking escape once the fight begins. Otherwise, not a part of the fight
  Searing Flame — The intense heat of Ragnaros's presence deals 982 to 1243 Fire damage to all nearby enemies. Instant. Ticks every few seconds on units not under Cenarius' Icecrown's Chill aura.
  Flame Tsunami 50,000 yd range — Inflicts Fire damage to nearby enemies and drenches them with lava, slowing them and dealing an additional Fire damage over 10 sec. 2,000 Fire initial tick, then 1000 Fire every second for 10 sec
  Magma Blast 50,000 yd range — Inflicts Fire damage to an enemy. 1 sec cast. 3,868,875 Fire. Cast on random units when no units are in melee range of Ragnaros, typically indicating a wipe.
  Lava Strike — Deals Fire damage in a small area. Cast by the fireballs falling out of the room. Ground targets light up before they land. Hits for ~1000 Fire, also has a short knockback component.
Melee — 120,000 to 160,000 damage on Cenarius
Immediately inside is Cenarius, with 12.2 million health, who has the following abilities:
  Icecrown's Chill 50 yd range — Channels the force of Icecrown, reducing Fire damage taken by 50%, increases healing received by 1000% and deals Frost damage to Ragnaros every 1 sec. Instant. Triggers both of:
Melee — 74-86,000 damage on Ragnaros
Hamuul and Malfurion join in, with the following abilities, respectively:
  Earth's Rage 100 yd range — Increase the physical damage taken by the target by 2000%. Channeled on Ragnaros when Hamuul is undisturbed
Speak with Cenarius to start the event.
Be wary, allies. There are bound to be traps to protect the Firelord from our incursion.

 I am ready to begin the battle against Ragnaros.
Cenarius says: Once Hamuul and Malfurion arrive, we shall begin...
They walk through the portal.

The battle to free Hyjal from Ragnaros has begun!

Malfurion Stormrage says: We are ready, Cenarius.
Cenarius says: We shall face the Firelord and drive every ember of his being out of our realm!
Cenarius says: I shall call upon the chilling mountain winds to protect us from Ragnaros' flame. Malfurion and Hamuul will shatter the Firelord's defenses, allowing us to force him back.
Cenarius says: Let us begin. It is only a matter of time before the Firelord becomes aware of our presence and comes to the spire's defense.
The three jog down to the bottom of the ramp. Reaching the flats at the bottom, Ragnaros emerges!
Ragnaros yells: WHO DARES TO DEFILE THE HALLS OF LIVING FLAME? I SHALL SEAR YOUR ESSENCE FROM YOUR FLESH!
Cenarius yells: Quickly, everyone move into position! Force him back into the Firelands!
Hamuul and Malfurion split off, to the left and right sides, respectively, while Cenarius takes center.
Ragnaros yells: FACE ME, INSECTS. I SHALL CRUSH YOU FIRSTHAND!

Help Cenarius defeat Ragnaros!

Combat begins. Stick close to Cenarius to avoid Ragnaros' Searing Flame aura. Eventually...
Ragnaros yells: BE BATHED IN FLAME! (sides)
Ragnaros yells: BURN IN LIQUID FLAME! (center)
Ragnaros will submerge and use Sartharion's Flame Tsunami ability, which can either attack the two sides (both Hamuul and Malfurion), or the center (Cenarius and the players).

Avoid the lava waves!
Ragnaros yells: ASSIST ME, MY CHILDREN!
Ragnaros yells: BURN THEIR FLESH AND SEAR THEIR BONES!
After the flame tsunami, Ragnaros reemerges and spawns some Sons of Flame to attack the druids. Whoever gets attacked will call for help:
Malfurion Stormrage yells: Defeat these sons of Ragnaros so that I can aid Cenarius!
Malfurion Stormrage can no longer empower your attacks! Assist him!

-- displayed for spell casters
Arch Druid Hamuul Runetotem yells: I am under assault! Assist me!

Hamuul Runetotem can no longer empower your attacks! Assist him!

Defeat the fire elementals attacking Arch Druid Hamuul Runetotem!

-- displayed for melee/ranged damage dealers
Sons of Flame are level 81 elites with 30,951 health. The Sons will interrupt Hamuul's and Malfurion's channels on Ragnaros, so take them out quickly to keep the damage multiplier active.
Another submerge, Flame Tsunami, reemergence, and add spawn. This process repeats until Ragnaros is beaten back.
Ragnaros yells: YOU HAVE ONLY DELAYED THE INEVITABLE, CENARIUS. FROM THE FIRELANDS SHALL MY ARMIES WILL BE REBORN...
Cenarius says: It took all of our combined strength, but we have pushed Ragnaros back into the Firelands.
Malfurion Stormrage says: We must not let down our guard. It's only a matter of time before he regains his strength and returns to turn Nordrassil into ash.
Arch Druid Hamuul Runetotem says: We must confer with the leaders of the Horde and the Alliance. Ragnaros must be defeated in his home realm. Only then will he forever be vanquished.
Cenarius says: Let us leave this place for now. We must return to the surface and restore the damage our enemies have caused.
Hamuul casts a Portal to Hyjal, which drops players off back at the Gates of Sothann.
Failure:
Ragnaros yells: YOUR FAILURE TODAY MORTALS HERALDS THE END OF YOUR WORLD. MY CHILDREN SHALL USHER IN A NEW ERA, RULED BY THE FLAME!
Progression
 [81] 

Signed in Blood

 [81] 

Your New Identity

 [81] 

Trial By Fire

/  [81] 

In Bloom

/  [81] 

Waste of Flesh

 [81] 

Twilight Training

Complete all of:

 [81] 

Walking the Dog

 [81] 

A Champion's Collar

 [81] 

Grudge Match

 [81] 

Seeds of Discord

 [81] 

The Greater of Two Evils

/  [81] 

Twilight Territory

 [81] 

Head of the Class

 [81] 

Graduation Speech

 [81] 

Twilight Riot

 [81] 

Slash and Burn

Complete all of:

 [82] 

Magma Monarch

 [82] 

The Twilight Egg

 [82] 

Brood of Evil

 [81] 

Secrets of the Flame

 [82] 

The Gatekeeper

 [82] 

The Firelord
Patches and hotfixes
Hotfix (2011-04-29): "

Players should again be able to successfully complete the quest The Firelord.

"

Patch 4.0.3a (2010-11-23): Added.

External links