The Forgemaster's Log
Objectives
Find the Forgemaster's Log at Deathwing's Fall in Deepholm.
Description
Go to the tower the slave spoke of. You should find it on the northeastern end of the camp.
If we can act fast enough we might be able to eavesdrop on the forgemaster's meeting.
Rewards
Completion
There is an entry for an upcoming meeting at the Upper Silvermarsh.
This must be where the Forgemaster is.
Notes
To the northeast of the lava pit! The log is at [63.7, 55.4]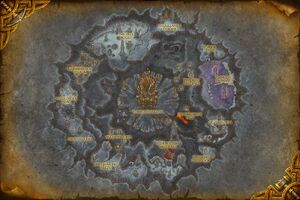 guarded by a Twilight Bloodsmith atop the tower.
Progression
Optional breadcrumbs:
 [82] 

The Maelstrom

Complete all of:
 [82] 

Diplomacy First

Complete all of:
 [82] 

Some Spraining to Do

 [82] 

Deathwing's Fall

 [82] 

Question the Slaves

 [82] 

The Forgemaster's Log

 [82] 

Quicksilver Submersion

 [82] 

The Twilight Overlook

 [82] 

Big Game, Big Bait

/  [82] 

To Catch a Dragon

 [82] 

Testing the Trap

 [82] 

Abyssion's Minions

/  [82] 

Block the Gates
Patch changes
External links