The High Elder
Objectives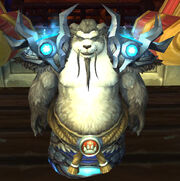 Speak with High Elder Cloudfall at the Tian Monastery in the Jade Forest.
Description
How strange, to have such a foreign-looking <class> visiting our temple. Are you here to study?
You... you look very strong. You wouldn't have any trouble getting accepted into the monastery. You should talk to the High Elder, up on the balcony above.
Rewards
You will receive: 98
Completion
Welcome to Tian Monastery. I see young Lin has helped you understand the role we fill here in our hilltop village.
We are unaccustomed to outsiders. You would do us a great favor to train alongside our younglings. We do not have anything to offer you, <class>... except knowledge, and perhaps an appreciation of what it means to be pandaren.
Gains
Notes
Speak with Lin:
 What is this place?
It's a monastery, of course!
The monks here at Tian Monastery specialize in teaching young pandaren - like me - how to fight. All the great fighters started here: Yu Ming the Blade, Liang the Unbreakable... even the great emperor Shaohao studied at ths very temple.
Or so the legends say.
Circle around the building to the north and head up two flights of stairs. Cloudfall is on the balcony on the third floor off to the west.
On complete:
High Elder Cloudfall says: If you are interested in training with us, speak with me again at the banquet tables, later this evening.
Lin offers the next quest.
Progression
Optional breadcrumb:

 [85] Tian Monastery
Patch changes
External links