The Imperion Threat
The subject of this article was removed from World of Warcraft in patch 5.4.0.

This includes items and quests that can no longer be obtained or are now deprecated.
The in-game information in this article is kept purely for historical purposes.
Objectives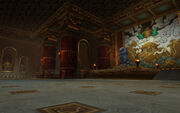 Kill the Shao-Tien Imperion.
Description
Scouts spotted a Shao-Tien Imperion entering the Guo-Lai Halls. I need someone I can trust to make sure he doesn't come out of there alive.
I think you're the <class> for the job.
Rewards
You will receive:

 [Treasures of the Vale] and 24

72
2

Progress
The mogu have repeatedly sent groups of their stronger warriors into those chambers. There is definitely something they want inside.
Completion
You haven't let me down. I won't forget that.
Gains
Notes
Enter the Guo-Lai Halls, head down the ramp, and take a right at the bottom to enter the Guo-Lai Ritual Chamber. At the north end of the chamber is a random Shao-Tien Imperion:
See its article for tactics.
Progression
Patch changes
External links