The Key to Success
The subject of this article was removed from World of Warcraft in patch 5.4.0.

This includes items and quests that can no longer be obtained or are now deprecated.
The in-game information in this article is kept purely for historical purposes.
The Key to Success

Start
End
Level
Type
Category
Experience
Reputation
Rewards
Repeatable
Objectives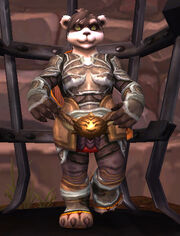 Find a Shao-Tien Cage Key and free 6 Golden Lotus Prisoners.
Description
The mogu have taken prisoners. They'll be tortured or worse.
Find any way you can to free them from their cages.
Rewards
Progress
I'd rather die than live as a mogu prisoner. They are not kind captors.
Completion
Many of those you saved are back here in camp recovering. You surely have their gratitude, and mine.
Gains
Notes
Keys are held by Shao-Tien dominators, soul-callers, and torturers. Find a key, then start freeing captives. They will fight beside you.
Progression
Patch changes
External links