The Real Race
| | |
| --- | --- |
| | The subject of this article or section is part of Darkmoon Faire, an ongoing event that lasts one week. Once the event has run its course, this will no longer be available until next month. |
Objective
Run through the Start Banner, hit the Blue Post, then the Green Post, then the Red Post, then return to the Start Banner.
Description
Ok, Darkmoon Racer, let's see what you got!
The real race has four legs: get to the blue post, then green, then red, then back here.
Your time matters, so do it fast!
Rewards
You will receive:
Progress
You haven't hit all the markers. Hurry!
Completion
Good job, and nice time!
Notes
Just like the tutorial, but this time the path is a full circuit of the western woods.
It is NOT necessary to hit every checkpoint, as it's possible to skip a few specific checkpoints and get to the next one before the 7-second timer runs out. Don't forget to use the Jump To Banner ability, as it will be necessary in a few places.
This race is timed, and there are achievements awarded for completing the race in a set amount of time: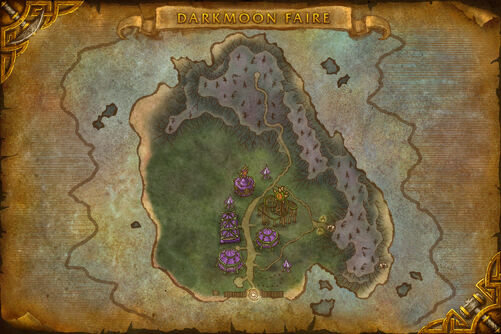 Progression
 [120 Daily] 

The Real Race

 [120] 

Let's Keep Racing!

(repeatable)
Patch changes
External links