The Soul-Gatherer
The subject of this article was removed from World of Warcraft in patch 5.4.0.

This includes items and quests that can no longer be obtained or are now deprecated.
The in-game information in this article is kept purely for historical purposes.
Objectives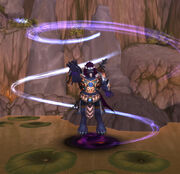 Kill Shadowmaster Sydow and recover the beads from his corpse.
Description
A single large mogu performing a ritual on the lake caught your attention while you were killing the other mogu in the area. It seems unwise to let his ritual complete.
Rewards
You will receive:

 [Treasures of the Vale] and 24

72
2

Progress
<He looks at you expectantly.>
Completion
<As you hand the beads to He, his smile suggests that he understands perfectly what they symbolize. He nods approvingly.>
Gains
Notes
After turning in

 [90 Daily] The Silent Approach, if Sydow is on the lake, this quest will automatically start.
A level 90 mogu, Shadowmaster Sydow has 1,969,000 health and the following abilities:
Shadow Bolt 40 yd range — Hurls a bolt of dark magic at an enemy, inflicting Shadow damage. 2.5 sec cast. Hits for ~12,500 Shadow.
Shadow Fissure 50 yd range — Creates a Shadow Fissure at the target location. Shadow Fissures inflict 9,750 to 10,100 Shadow damage every 1 sec for until cancelled. 2 sec cast.
Unleash Souls 300 yd range — Unleash Souls inflicts 146,100 to 153,750 Shadow damage to enemies within 60 yards that are not protected. 4 sec cast. Telegraphed with a boss emote:

Shadowmaster Sydow begins to cast

[Unleash Souls]

! Get underwater!

Crackling Shadows — Inflicts 14,625 to 15,375 Shadow damage to enemies within 8 yards of each other. Instant. Will hit once if no other friendlies are in range.
Note the lily pads on the lake. They can be walked on! Sydow will not move from his position, so he will not need to be tanked normally. Don't bother interrupting the shadow bolts, move out of the fissures, but get UNDER WATER when he casts Unleash Souls to avoid the ~150,000 damage attack.
Progression
Patch changes
External links