The Voice of Goldrinn
For the horde equivalent, see  [81] 

The Voice of Lo'Gosh

.
Objectives
Locate Ian Duran near the Shrine of Goldrinn in Hyjal.
Description
Southwest of here lies the shrine of Goldrinn, a memorial erected in honor of the ancient wolf spirit and his contribution during the War of the Ancients.
Our new worgen allies have been drawn to the memory of the wolf god - go figure!- and were in the process of cleaning up the shrine.
I haven't heard anything from my contact, Ian Duran, in days. Can you fly down there and find him? I've got a bad feeling that Goldrinn's shrine is in trouble...
Completion
You're here to rescue me, <class>? Thank you!
No, no, don't worry about the cage for now. My life isn't important. We've got to save the shrine, first.
Notes
Follow the road to the southwest and take the first fork to the right leading down into the valley. Ian Duran and Takrik Ragehowl are in cages just south of the shrine proper at [30.1, 31.3]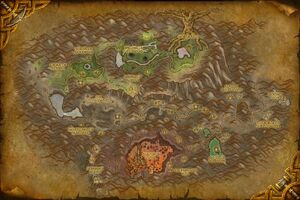 west of the lake. The shrine is alight thanks to the work of Lycanthoth Vandals.
Progression
Foray into the Firelands
Patch changes
External links