Thinning The Pack
Thinning The Pack

Start
End
Level
Type
Category
Experience
Reputation
Rewards
Repeatable
Previous

 [90] It's A...
Objectives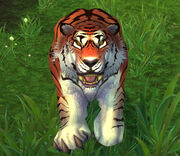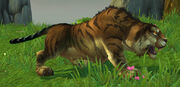 Kill 8 Windward Tigers or Windward Alphas.
Description
The past few seasons have been plentiful, and as a result, the wild tiger population on Windward Isle has exploded.
The savage creatures have hunted out all the nearby game, and are beginning to encroach upon the cloud serpent nests.
As a result, as the tigers thrive, the cloud serpents decline.
If we are not careful, the predatory cats could completely wipe them out.
We must thin the tigers' numbers, <race>.
Rewards
Progress
If we let nature take its course too often, we may lose great treasures.
Completion
You have carried out the task to the letter, <name>.
Gains
Notes
Fly to the northwest side of Windward Isle and get cracking. Note that the Windward Saber for

 [90 Daily] On The Prowl counts too.
Progression
Patch changes
External links