Tideguard Pontus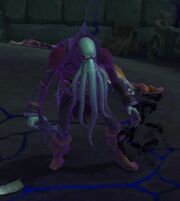 Tideguard Pontus is a human located in Brineworks in Stormsong Valley. He transforms into a k'thir.
Abilities
Overpowering Strike - Slashes at the target, inflicting Physical damage and additional Physical damage every 2 sec for 12 sec.
Shadow Mend - Calls upon Shadow magic to heal 10% every 2 sec for 6 sec.
Shield Wall - Reduces the Physical and magical damage taken by the caster by 50% for 6 sec.
Void Bolt - Hurls a bolt of dark magic at an enemy, inflicting Shadow damage.
Objective of
Quotes
Aggro

All who fail to obey must be culled!
At 50% health

I am blind no longer.
After turning into a k'thir

Gaze upon the shadow of your demise.
Death

They await... in the depths...
Patch changes
External links