Tipping the Scales
The subject of this article or section did not make it out of the beta stages of World of Warcraft: Mists of Pandaria.

The in-game information in this article or section is kept purely for historical purposes.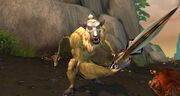 Objectives
Kill 12 Hozen Ravagers.
Description
These blasted native monkey savages have been assaulting us since the day we put to shore!
We were holding our own until they kidnapped half our men, including the Admiral.
Just look at their numbers! They're endless, and we're standing on our last legs.
If you're here to get us out of this mess, go help take down some monkeys.
It's them or us, <race>!
Rewards
You will receive:
Progress
We're holding the front, but it's only a matter of time before their numbers win.
Completion
Fantastic! I knew those monkeys would turn tail and run once they got a whiff of Alliance strength!
Notes
Pick up

 [86] Fighting the Flames before heading out. Hozen Ravagers are level 84 hozen with 135000 health. Players are required to do at least 50% of the damage to get quest credit, so get out away from the town. Take out twelve. Use the quest item to put out fires in the landing. It acts like a ground-targeted AoE.
After completing both quests:
Grayson Early says: Yeee-haw, we drove them back!! That's right, monkeys, run your little tails off!
Grayson Early says: Looks like they couldn't handle the taste of Alliance steel. Good work, <name>.
Grayson and Rell Nightwind move into the building with Sajera Rani. All three offer quests.
Progression
Patch changes
External links