Toad
For the critter, see Toad (critter).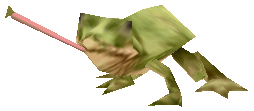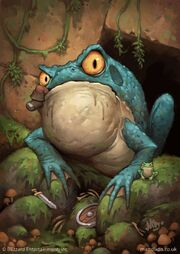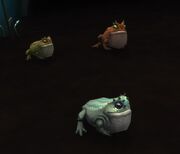 Toads are small amphibians similar to frogs. Toads are believed to be frogs that have adapted to dry habitats.[citation needed] 
Known species
Named
As a companion
Main article: Frog#As a companion
Notes
Frogs use the same model as toads.
Patch changes
Patch 8.0.1 (2018-07-17): Model updated.

Patch 5.2.0 (2013-03-05): Frogs and Toads received a new updated model.

This change will only apply to new frogs/toads added from 5.2.0 and on.

Creature group
Beast creatures

Amphibian
Bird
Feathermane
Fish
Mammal

Carnivoran
Ungulate

Bovids
Camelids
Cetaceans
Proboscids
Swine

Reptile
Invertebrate

Arachnid
Crustacean
Insect
Mollusc
Worms

Other

Critter creatures

Amphibian
Arachnid
Bird
Crustacean
Fish
Insect
Mammal
Reptile
Other