Troubling the Troublemakers
The subject of this article was removed from World of Warcraft in patch 5.4.0.

This includes items and quests that can no longer be obtained or are now deprecated.
The in-game information in this article is kept purely for historical purposes.
Troubling the Troublemakers

Start
End
Level
Type
Category
Experience
Reputation
Rewards
Repeatable
Objectives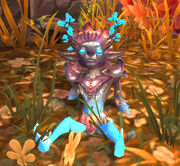 Kill 8 Stonebark sprites.
Stonebark sprites slain x8
Description
The wood sprites are back. I need you to kill them before they cause anymore trouble.
Rewards
Progress
It's near impossible to get any rest at night with the wood sprites around. They don't sleep, so neither can we.
Completion
Some peace and quiet. Thank you.
Gains
Notes
Plenty of Stonebark Tricksters immediately to the north of the questgivers and further north up on the Ruins Rise as well.
Progression
Patch changes
External links