Ulduar (instance)
For the greater complex of which this dungeon is a part, see Ulduar.
Ulduar is a raid dungeon in the titan complex of Ulduar which is located in the Storm Peaks. It serves as the prison of the Old God Yogg-Saron[1] as well as the current residence of most of the titanic watchers who have fallen under its influence.
Ulduar was implemented in patch 3.1.0, intended to be one grade in difficulty above Naxxramas.[1][2][3]
Ulduar received good reception from the players who praised the instance's interior design, music, interesting and challenging boss encounters and the rich amount of lore. It is regarded by many to be the greatest and most successful raid instance Blizzard has so far released.
Geography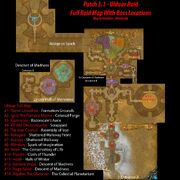 Maps and subregions
Encounters by location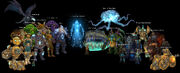 Bosses
Monsters
NPCs
The Siege of Ulduar
The Antechamber of Ulduar
The Keepers of Ulduar
The Descent into Madness

Memory 1

Memory 2

Memory 3

Memory 1

Memory 2

Memory 3

Supermassive

Brann Bronzebeard
Ten of the raid dungeon's fourteen encounters have hard modes (different from normal and heroic modes).[4] Algalon the Observer is a hard mode-only but optional encounter. Encounters completed on hard modes reward achievements as well as extra and/or improved item rewards.[1][5] Siege vehicles play a role in the dungeon's first encounter, Flame Leviathan.[1]
The dungeon does not follow a completely linear progression; Yogg-Saron and Algalon the Observer are regarded as the most difficult encounters, and are accessible independent of each other.
Loot
Main article: Ulduar loot
Items obtained in 10 and 25-man modes share the models, but vary in color. Set bonuses can be obtained when 10 and 25-man set items are worn together.[6]
Item levels range is between 219-232 (10-man) and 226-239 (25-man).
Achievements
Raid setup
The 10-man version
A Naxxramas-geared group should do fine with 2 tanks, 3 healers and 5 damage dealers. With better gear a healer might be replaced by a damage dealer.
For some encounters a tank or healer might switch to damage spec. A good example of this is Hodir, where one frost resistance feral druid can tank both phases of the encounter.
The 25-man version
Nearly full Naxxramas 25/Malygos 25 gear is highly recommended to start and absolutely required for the later encounters. Expect most encounters to require 6-7 healers for new groups. Three tanks are required for many of the encounters and some such as Thorim even benefit from a fourth tank.
Comparison
See this article for a detailed side-by-side comparison of the differences between 10 and 25 man Ulduar, specifically how abilities or strategies need to change.
Ulduar World First Kills
Gallery
Placeholder (pre-3.1) Instance portal.
Videos
Patches and hotfixes
Hotfixes can be found listed on the official forums at http://forums.worldofwarcraft.com/thread.html?topicId=16474158165&sid=1 and http://forums.worldofwarcraft.com/thread.html?topicId=17631614070&sid=1.
References
External links