Under the Setting Sun
The subject of this article was removed from World of Warcraft in patch 5.4.0.

This includes items and quests that can no longer be obtained or are now deprecated.
The in-game information in this article is kept purely for historical purposes.
Objectives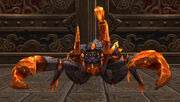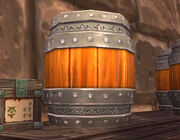 Kill Kri'chon, the Corpse-Reaver.
Description
A giant beast has burrowed under the gate into the courtyard. The defenders need your help!
Rewards
You will receive:

 [Treasures of the Vale] and 24

72
2

Progress
They need you in the courtyard!
Completion
I heard you performed some heroics in the courtyard! Your name will be remembered on the wall for some time. Well done, <name>.
Gains
Notes
Kik'chon is a level 91 elite scorpid with 2,852,000 health and the following abilities:
Reaving Claws — Inflicts 61,750 Physical damage and knockback to all enemies in a frontal cone. 2 sec cast. Area of effect marked on ground. If it hits an Oil Keg, triggers... (4 sec cooldown)

Flammable Oil — Covered in flammable oil. Debuff on Kri'chon. Triggers...

Burning Oil — The oil ignites, inflicting Fire damage every 2 sec. for 8 sec. Instant. Ticks on Kri'chon for 107,000-128,000 Fire.

Sting of the Corpse-Reaver Melee range — Inflicts 33,100 Nature damage and reduces armor by 50% for 12 sec. 1.5 sec cast. Area of effect marked on ground. (4 sec cooldown)
Kite it around the courtyard and tank in front of the giant Oil Kegs along the outside walls. If Krichon's Reaving Claws damage an Oil Keg, it will be covered in Flammable Oil, which is then lit up by archers on the walls, doubling damage dealt to Krichon and doing damage itself.
Shado-Pan Guard-Captain yells: Archers, attack! Make him burn!
Shado-Pan Guard-Captain yells: The beast is covered in oil, light him up!
Shado-Pan Guard-Captain yells: Light up the oil!
Repeat until dead—the NPCs will not help otherwise.
Progression
Patch changes
External links