Unearthed Grounds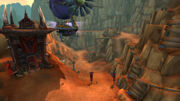 The Unearthed Grounds was an Explorers' League excavation site found just north of the Greatwood Vale and east of the Northwatch Expedition Base Camp in Stonetalon Mountains. The area was forcibly taken by the Horde from the dwarves that were working it.
Digsite
The Unearthed Grounds region is a fossil archaeology dig site.
Gallery
Patch changes

Patch 4.0.3a (2010-11-23): Area added.