Unleashed Spirits
The subject of this article was removed from World of Warcraft in patch 5.4.0.

This includes items and quests that can no longer be obtained or are now deprecated.
The in-game information in this article is kept purely for historical purposes.
Unleashed Spirits

Start
End
Level
Type
Category
Experience
Reputation
Rewards
Repeatable
Objectives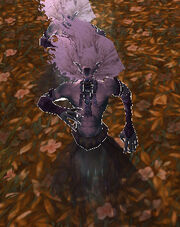 Kill 30 Unleashed Spirits.
Description
The Shao-Tien have unleashed their captive tortured spirits on us. They flood down from the Golden Stair, with no end in sight.
Kill as many of these unleashed spirits as you can. They are fragile, but if you are not alert, they can easily overrun you.
Good luck.
Rewards
Progress
I do not expect you to stop the flood, only stop it for a time. The Shao-Tien cannot keep this up forever.
Completion
The spirits still come, but our guards can hold them back. The Shao-Tien cannot keep this up forever.
Thank you, <class>.
Gains
Notes
The Unleashed Spirits travel in packs of roughly five. They have 78,788 health each.
Progression
Patch changes
External links