Valgar Highforge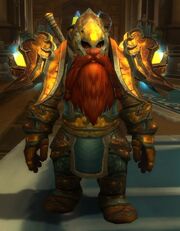 Valgar Highforge is a dwarf paladin trainer located on the second floor of the Hall of Mysteries in the Mystic Ward in Ironforge. He also directs paladins to Lord Grayson Shadowbreaker for questing.

This section concerns content related to Legion.
He joined the Silver Hand and is located in the Sanctum of Light.
Quests
Quotes
Non-paladin gossip
Ya may not follow the ways of the Light like a Knight of the Silver Hand, but ya can always ask us for aid.
See also
External links