Varian Wrynn (film universe)
Varian Wrynn is the young Prince of Stormwind, son of Queen Taria Wrynn and the late King Llane Wrynn. He is the nephew of Anduin Lothar, and brother of Adariall.
The future king of Stormwind, after the death of his father at the hands of Garona Halforcen, the young prince has taken a less than compassionate attitude toward the orcs, but is being counselled by Khadgar.
History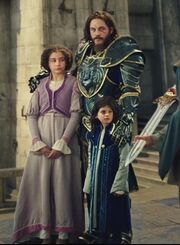 Warcraft

This section concerns content related to the Warcraft novels, novellas, or short stories.

This section concerns content exclusive to the Warcraft film universe and is considered non-canon.

Please add any available information to this section.

Notes
Quotes
"Every orc deserves to die. When I'm king, I'll be like Lothar, and kill them all!"[1]
References