Vex'tul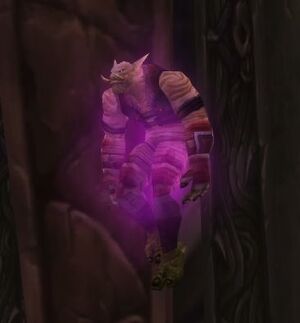 Vex'tul is a undead forest troll found in the Eastern Plaguelands, after

 [41] Zaeldarr the Outcast has been completed. Vex'tul seeks vengeance against the traitor Thresh'jin.
History

This section concerns content related to Cataclysm.
Vex'tul was once the leader of the Mossflayer tribe until Thresh'jin took the seat from him with treachery and deceit. Vex'tul was killed that day. After becoming an undead zombie he called Zaeldarr the Outcast his master and did his bidding, until the day an adventurer killed Zaeldarr as well.[1]
After being freed Vex'tul followed his former's master killer to the Crown Guard Tower. After the adventurer proves their strength to Vex'tul joins Fiona's Caravan. When the caravan reaches of one the Argent towers (Eastwall Tower or Northpass Tower) Vex'tul decides the time for vengeance is at hand. With the aid of the adventurer, Vex kills Warlord Thresh'jin and claims his body. He then asks for the adventurer to set Warlord Thresh'jin's body ablaze but warns that he leave the caravan and pass on to the afterlife when it is done.
When the members of Caravan arrive to fight Baroness Anastari and prevent her from turning Gidwin Goldbraids into a death knight, Vex'tul is among even if Thresh'jin's body was set ablaze. If the player had burned Thresh'jin's body he hovers as a spirit, but if the player still he has the body he joins the other members of the caravan in the attack.
Abilities
  Enrage — Increases attack speed by 100% and increases damage by 50% for 8 sec.
  Slam — Slams the opponent, causing weapon damage plus an additional amount.
  Uppercut — Inflicts 110% weapon damage to an enemy, knocking it back.
Quests
 [42] 

Honor and Strength

 [43] 

Out of the Ziggurat

 [43] 

Into the Flames
Patch changes
References
^  [43] 

Out of the Ziggurat
External links