Vicious War Kodo
Vicious War Kodo
Mount
Use: Teaches you how to summon this mount.
Horde Only
Requires Level 40
Requires Journeyman Riding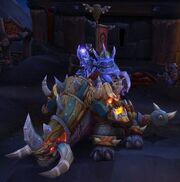 Source
This item is sold by

 Deathguard Netharian <Combatant Mount Quartermaster> in Orgrimmar in exchange for
 [Vicious Saddle].
Mount Journal
The spiked ball on the tail is strong enough to crush through even the most reinforced Alliance defenses.
Patches and hotfixes
Hotfix (2015-09-10): "Fixed an issue where Vicious War Kodo and Vicious War Mechanostrider were not correctly converting into the opposite faction equivalent while performing a Faction Change."

Patch 6.2.0 (2015-06-23): Added.

External links
Mount family
Specific types