Vindicator Kuros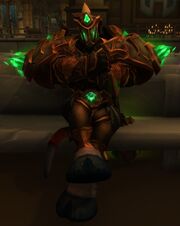 Vindicator Kuros is a level 33 quest giver located at Blood Watch in the draenei territory of Bloodmyst Isle.
Upon the death of Tirion Fordring, he joined the Silver Hand and is located in the Sanctum of Light.
Abilities
Quests
Quotes
Greetings, <class>. I am Kuros, second of the Triumvirate of the Hand.

I want all of your trackers out in search of the criminal, Matis the Cruel. I have given trusted agents of the Hand flare guns. Should you or one of your trackers see the flare, it means that an agent has found Matis and needs assistance. And remember, tracker, Matis is to be brought back to me alive.

Breathe your last breath, heathen.

You blaspheme! The Light would never allow such an aberration!
Notes
Patch changes
See also
External links