Vineyard Warden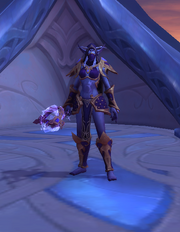 Vineyard Wardens are nightborne located in Suramar.
Abilities
Nether Suppression - Deals Arcane damage every 1.5 secs for 6 sec. Slows both attack and movement speed by 30%.
Drop
Objective of
Quotes
An illusion! What are you hiding?

Anath'ashar!

Arash-falas...

Die, outlander!

I cannot lose to a lowborn!

I shall dispose of you, lowborn!

Inconceivable...

It is hopeless to resist...

It's no use!

My magic... defeated?

No! It is not my time....

None may challenge us!

Now is the age of the shal'dorei!

Our magic will break you!

Scum like you should obey your betters.

Something's not quite right...

The Nightborne will rule this world!

The shal'dorei are... chosen...

The shal'dorei will rule this world!

The shal'dorei will rule!

Tor'theras falar!

We are chosen to rule!

We have... failed.

Who goes there?!

Your age has ended!

Your death is fated!

Your fate is sealed!
Patch changes
External links