Vyraxxis, the Krik'thik Swarm-Lord
The subject of this article was removed from World of Warcraft in patch 5.4.0.

This includes items and quests that can no longer be obtained or are now deprecated.
The in-game information in this article is kept purely for historical purposes.
Objectives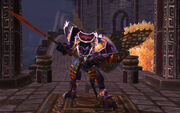 Kill Vyraxxis, the Krik'thik Swarm-Lord.
Description
A giant mantid is terrorizing the inside of the wall. It seems doubtful that the defenders will be able deal with it without you.
Rewards
You will receive:

 [Treasures of the Vale] and 24

72
2

Progress
Yes, <class>?
Completion
I like your initiative. Good work.
Gains
Notes
Head north of the gate along the wall. Vyraxxis spawns in the pagoda north of the northern main gate tower.
Progression
Patch changes
External links