Warden Virgil
Warden Virgil is a level 90 human member of the Timewalkers found at Celestial Court of Timeless Isle.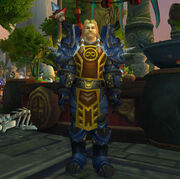 Quotes
Those who meddle with the timeways for their own selfish ends are often dangerous.
It is for this reason I joined Wardens, staunch defenders of the Timewalkers.
We guard the Watchers and Weavers as they go about their tasks.
Patch changes
See also
External links