Wasn't It Obvious?
Wasn't It Obvious?

Start
End
Level
Category
Experience
Rewards
Shareable
Previous

 [18] Xylem's Asylum

Next

 [19] Easy is Boring
Objectives
Use the portal behind Joanna at Xylem's tower to find Anara the Spirit Healer and—hopefully--Azuregos.
Description
Azuregos! Yes, of course. Troubled old dragon, but lovely heart. I don't think all the years of vagabonds assaulting him have done him much good. He's a mite strange these days.
Not long ago, when returning yet again to our local Spirit Healer, Anara, I couldn't help but notice that her and Azuregos seemed to be hitting it off. I imagine he's still keeping her company.
The portal behind me is probably the quickest way to reach her. It might sting a little though.
Rewards
You will receive: 8
(or 6
60

at max level)
Completion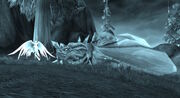 Azuregos! At last you've found him!
Progression
 [17] 

Azshara Blues

Complete all of the following:
 [17] 

Wash Out

 [18] 

Dressed to Impress

 [18] 

Renewable Resource

/  [18] 

Shear Will

/  [18] 

Waste of Thyme

 [18] 

Trouble Under Foot

/  [18] 

Manual Labor

 [18] 

Watch Your Step

 [18] 

The Trial of Fire

/  [18] 

The Trial of Frost

/  [18] 

The Trial of Shadow

 [18] 

Xylem's Asylum

 [19] 

Wasn't It Obvious?

 [19] 

Easy is Boring

 [19] 

Turning the Tables

 [19] 

Fade to Black

/  [19] 

Ice Cold

/  [19] 

Pro-liberation

 [19] 

Farewell, Minnow
Patch changes
External links