Watcher Ladimore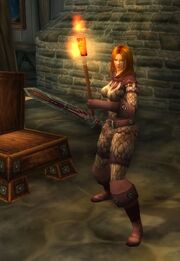 Watcher Sarah Ladimore, also known as Watcher Ladimore, is a quest giver located in Darkshire in the human-aligned territory of Duskwood. She is the daughter of Morgan Ladimore, now known as the undead beast Mor'Ladim, and the only survivor of her family.

This section concerns content related to Legion.
During the Burning Legion's third invasion, the Night Watchers joined the Veiled Hand but Watcher Ladimore did not. When the rogues of the Uncrowned infiltrated the town, Ladimore was seen protecting several inhabitants.[1]
Quotes

This section concerns content related to Legion.
How could they believe the Herald's lies? There's dark magic at play here - mark my words.
Please, if you can do anything to stop this, do it now. So many innocent lives lost...
Quests
Trivia
During the Legion beta version, she was supposed to join the other members of the Night Watch in the Veiled Hand. A certain public outcry happened due to the previous quests she was involved in, and now in the live version she refuses the call of the Burning Legion instead.[2]
Gallery
Fanart
See also
References
^   [98 - 110] 

Cloak and Dagger
External links