Watcher Lara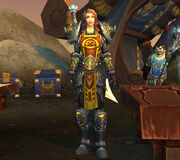 Watcher Lara is a level 90 human member of the Timewalkers found at Tushui Landing of Timeless Isle.
Quests
Quotes
Gossip
To think: This place has been outside our time stream - and existence itself! - for millennia.
Our most experienced Weavers assure us this island's temporal position is stable, but still, I wonder...
What would happen if it vanished again while we were upon it?
Patch changes
See also
External links