Wavethrashing
The subject of this article was removed from World of Warcraft in patch 4.0.3a but is present in World of Warcraft: Classic.

The subject of this article does not exist on the retail realms anymore.
The categories should reflect this, and should not include retail realm categories.
Wavethrashing is a hunter only quest in Azshara.
Objectives
Bring 6

 [Wavethrasher Scales] to Ogtinc in Azshara. Ogtinc resides atop the cliffs northeast the Ruins of Eldarath.
Details
Wavethrashers can be located at coordinates [87, 26]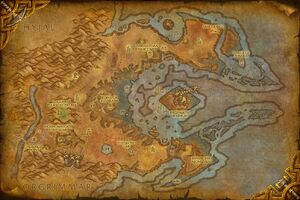 and in the beach area surrounding these coordinates.
Description
The wavethrasher is an amphibious beast living only here in Azshara. They are powerful and resilient.
The tough, reflective scales from a wavethrasher mirror the strength of the hunter.
Track and hunt wavethrashers along the coast of Azshara, and bring me their scales.
Progress
Have you met with success?
Rewards
You will gain:
Completion
The wavethrashers are not easily defeated, even more so in their watery environment.
You have proven yourself ready to hunt even deadlier prey.
Progression
Patch changes
External links