Welcome to the Darkmoon Races
| | |
| --- | --- |
| | The subject of this article or section is part of Darkmoon Faire, an ongoing event that lasts one week. Once the event has run its course, this will no longer be available until next month. |
Welcome to the Darkmoon Races is the tutorial quest for the Darkmoon Races at the Darkmoon Faire.
Objective
Run through the Darkmoon Races Start Banner, hit the Blue Post, then return to the Darkmoon Races Start Banner.
Description
So this is your first race, eh? Don't worry - it's easier than it looks. Let me break it down for you...
Run through that big banner there. That starts everything. Then, follow the smaller banners until you see a big, blue Post. Hit that, then return here.
You're scored on your time, so finish as fast as you can! And watch out for those electrified tripwires. They'll slow you down if you run through them. Good luck!
Rewards
You will receive:
Progress
Hurry! Hit the blue post!
Completion
You made it! This is just a practice race so your time doesn't matter... other than bragging rights.
Time to try the real race!
Notes
While in possession of a
 [Darkmoon Game Token], start the quest and run through the start/finish line just west of the questgiver. While on the event mount, a racing strider, racers have access to the following special ability:
  Jump To Banner 100 yd range — Jumps to a banner and grants immunity to hazards for 4 sec. Instant (10 sec cooldown)
On the course are speed boosts (marked with a boot), jump boosts (marked with a spring), electrified fences, and a number of checkpoints that also give a speed boost when run through and allow seven seconds of water-walking. The eight checkpoints, blue post, and start-finish line are marked on the map below, but the path is obvious while in-game, and only the current and next few banners are visible at any time.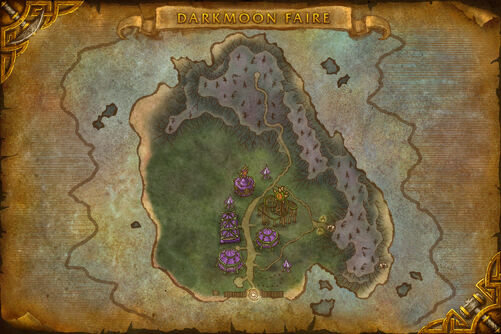 As this is just a tutorial race, don't feel the need to get the best time possible, but consider strategies and when to use the Jump to Banner cooldown.
Progression
 [120 Daily] 

The Real Race

 [120] 

Let's Keep Racing!

(repeatable)
Patch changes
External links