Wowpedia:Wowpedia Editor's Toolkit
Wowpedia Editor's Toolkit, by Linneris, is a browser extension that converts Wowhead quest, mission, and NPC pages into Wowpedia wiki markup.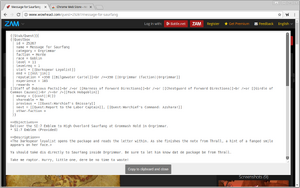 Current release:
2.0.10
2020-10-20
Fixed an issue that caused the extension to stop working because of a Wowhead update.
Installation
Install this extension into your browser:  Firefox  Chrome
Like all extensions, it should be periodically automatically updated. To update manually, open your browser's extensions page and select "Check for updates" (Firefox) or "Update all extensions" (Chrome).
Use
WET will load information from the page and convert it to wiki markup, which will be displayed in the large text area. Click Copy to Clipboard, then paste the wiki text into a Wowpedia article in the browser.
Feedback
You can post bug reports and feature requests in the GitHub issue tracker or on the talk page here on Wowpedia.
QuestFiller (historical)
QuestFiller was a Java application that predated the WET browser extension and had the same functionality, but was less convenient to use.
It is no longer updated. Previous releases can be found at the GitHub releases page.