Wrath
The subject of this article was removed from World of Warcraft in patch 7.0.3.

This includes items and quests that can no longer be obtained or are now deprecated.
The in-game information in this article is kept purely for historical purposes.
For the item set, see Battlegear of Wrath. For the expansion, see Wrath of the Lich King. For the Sinfall object, see Wrath (Revendreth).
Wrath

Wrath

Level 1 druid ability
40 yd range
3.5% of base mana
2 sec

cast

A Solar spell that causes (148.82% of Spell power) Nature damage to the target.

Usable by
Class
Druid
Properties
Type
Offensive
School
Nature
Cooldown
None/Global Cooldown
Other information
Level learned
1
Nature's fury is awesome to behold.[1]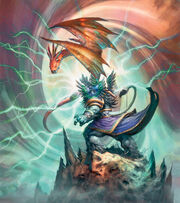 Wrath is a druid direct damage spell available at level 1.
Tips and tactics
Trivia
Patches and hotfixes
However, some NPCs, such as Zen'Kiki, still use the old animation.

Patch 4.2.0 (2011-06-28): Damage has been increased by approximately 23%.

Patch 4.0.1 (2010-10-12): Major changes for Cataclysm.

Patch 3.1.0 (2009-04-14): Eclipse: The benefit to Wrath triggered by casting Starfire has been increased to 30% bonus damage.

See also
References
External links