Wu Kao Scouting Reports
The subject of this article was removed from World of Warcraft in patch 5.4.0.

This includes items and quests that can no longer be obtained or are now deprecated.
The in-game information in this article is kept purely for historical purposes.
Objectives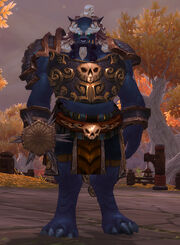 Recover 3 Wu Kao Scouting Reports.
Description
There were some scouting reports unaccounted for after the attack. If we're lucky, they're still out in the village, but the mogu may have gotten their hands on some of them as well.
If you could bring back any scouting reports you find, it would definitely put my mind at ease. We can't afford to let the mogu in on our positions or any of the artifacts we've found, lest the men be in even more danger than they already are.
Rewards
Progress
Any luck finding those reports? I'm worried for the safety of our men in the field if too much information falls into mogu hands.
Completion
You are very kind, <name>. Thank you for putting my mind at ease.
Gains
Notes
Shao-Tien Pillagers hold scouting reports. They can also be found on tables all over town.
Progression
Patch changes
External links