As part of the Unified Community Platform project, your wiki will be migrated to the new platform in the next few weeks. Read more here.
Yonada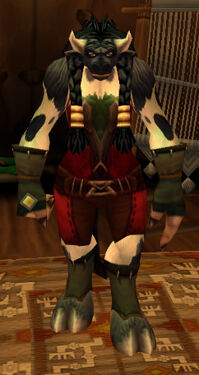 Yonada was a level 25 tailoring and leatherworking vendor located in Camp Taurajo in the Southern Barrens. She was killed when the Alliance attacked Camp Taurajo. Winnoa Pineforest sent a Horde adventurer to summon her spirit and put it to rest.
Objective of
Sells

The subject of this section was removed from World of Warcraft in patch 4.0.3a but is present in Classic.
[

Black Dye

]


10 52

[

Bleach

]


26

[

Blue Dye

]


52

[

Coarse Thread

]


10

[

Fine Thread

]


1 5

[

Gray Dye

]


3 68

[

Green Dye

]


1 5

[

Heavy Silken Thread

]


21 5

[

Orange Dye

]


10 52
1x 

[

Pattern: Blue Overalls

]


4 21
1x 

[

Pattern: Red Woolen Bag

]


5 26

[

Pink Dye

]


26 31

[

Purple Dye

]


26 31

[

Red Dye

]


52

[

Rune Thread

]


52 63

[

Salt

]


52

[

Silken Thread

]


5 26

[

Skinning Knife

]


86

[

Yellow Dye

]


5 26
Patch changes
External links