Zort
Zort is a level 75 goblin quest giver found in the Crystal Vice of Dragonblight.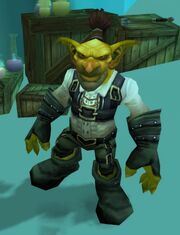 Quests
He is involved in the following quests:
Quotes
Impressive, aren't they? These giants would be the perfect fodd... er, allies. This one is their leader, but he continues to refuse to speak with me.
Where diplomacy fails, enslaving is a perfectly viable alternative.
Trivia
His name is probably derived from a cartoon show called "Pinky and the Brain", where both characters were lab mice, and Pinky was the comedic relief, one of his catchphrases was "Zort!".
External links